Beechfield Children try out new Harebreaks playground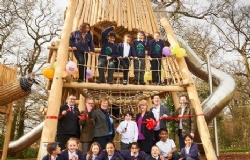 Around 50 Beechfield children tried out the new Harebreaks Adventure Playground
The newly opened Harebreaks Playground has a large 22-metre-long tower that stretches more than 12 metres into the air. Young people can scramble up a climbing wall and across a bridge to reach the tower before climbing up to a fast straight slide and a steep twirly one.
There is a mid-air netted area for children to have a rest or climb across to get higher up the structure. The tower - accessed via a wobbly bridge designed for children of all abilities - has special panels to reflect light in different colours.
Around 50 children from Beechfield Primary School tried out the new equipment and found it challenging and fun. Alisha, aged 10, said: "I think it's amazing and I love the curly slide especially. It goes around and around and it's really fast."
See the article which features on Heart FM news, here.