Collaborative Art Exhibition at Watford Museum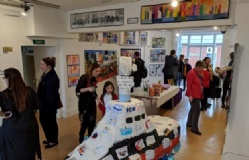 A FREE art exhibition displaying work from EVERY child at Beechfield, Cherry Tree and Laurance Haines Schools is open to the public at Watford Museum until 27th April.
Creative pupils from three schools have collaborated together to unveil a colourful art exhibition at Watford Museum.
Pupils from Beechfield, Cherry Tree, and Laurance Haines schools in Watford, which are all part of the Inclusive Multi Academy Trust were tasked with creating their own interpretation of American painter George Bellows' 'Men of the Docks'. The project was led by Louise Goss.
Produced in 1912, Men of the Docks paints a scene of the docks of Brooklyn, New York, as labourers await jobs on a grey winter morning.
The National Gallery has chosen the painting for this year's Take One Picture scheme.
Pupils and teachers at the three schools in Watford have been working behind the scenes to come up with their own artistic interpretations of Mr Bellows' work and it is now on display at Watford Museum in Lower High Street.
Deputy Mayor of Watford, Cllr Karen Collett, was on hand to launch the exhibition and she was joined by pupils, parents, school governors, and trustees.
The art will be on display at the museum until Saturday April 27.
See the article in the Watford Observer here.
Watford Museum is open from 10am-5pm Thursdays to Saturdays. The exhibition is FREE.