IMAT Spelling Bee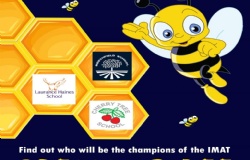 The first IMAT Spelling Bee will be taking place at Beechfield School on Wednesday 12th June.
Children from Beechfield, Laurance Haines and Cherry Tree from years 3 & 4 and 5&6 will be competing against each other for the IMAT Spelling Bee Trophy. The winning school will keep the trophy for one year. Good luck everyone!
Well done to everyone involved, what a great competition and congratulations to Beechfield who won the trophy this year!