National Nurturing Schools Award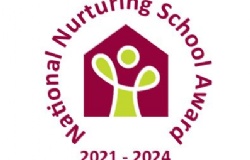 Beechfield is awarded the National Nurturing Schools Award
In November 2018 Beechfield undertook the National Nurturing Schools Programme - a 2-year journey to achieve a Nurture Award by embedding the 6 Principles of Nurture across our school.
Over the lifetime of the project, we have invested time and resources into ensuring that our school developed into a more Nurturing environment, not only for our children but also for the families and the extended community. We have always wanted our school to be at the heart of our community and we have worked tirelessly to achieve this. This project has been a labour of love. I have had the privilege to be involved in the development of the programme as well as collate all the evidence to submit to Nurture UK in December 2020.
On Tuesday 23rd February 2021, we had an all-day zoom call with Wendy Roden, National Training Development and Innovation Manager for Nurture UK, to discuss our journey and to give her the opportunity to speak to staff, children, parents, Governors and community partners about our achievements over the past 2 years.
Wendy was hugely impressed with our school and today she met with the other Nurture UK Assessors to present our evidence and decide if we had met all the necessary requirements to be awarded the National Nurturing Schools Award. I am both proud and thrilled to say that our wonderful school has achieved this very special National Award.
Wendy Roden had this to say about our school and the work we have completed in the last 2 years: "It was an absolute pleasure to spend the day with your staff, children, parents, governors and members of the community as part of the assessment and lovely to hear all the wonderful contributions to the Award. Very well done and huge congratulations to everyone at Beechfield".
Alison Hayward, Pastoral Team Leader