A Visit from the Prime Minister!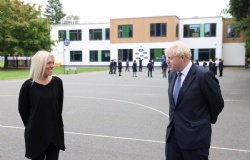 Monday 7th September 2020 will be remembered as a special day for Beechfield children and staff as Prime Minister Johnson and our local MP, Dean Russell visited the school.
Mrs Jackson said she was very proud to show the Prime Minister our wonderful school and our amazing children.
Mr Roach, the IMAT CEO, said that the fact that Beechfield had been chosen recognises the dedication that the staff have shown throughout the lockdown period. It was a great opportunity to talk with the Prime Minister about the wonderful work that has been going on to support the families and children in our community.